The Loop List help page is a MLN page that helps users. The pages says:
What is a My LEGO Page Soundtrack Loop?
My LEGO Network Page Soundtrack Loops are small audio clips that can be added to your Soundtrack Module, so you can build your own music for your My LEGO Page. There are many special loops hidden all over LEGO.com!
Don't forget to click on your friends' Soundtrack Modules, you'll help them rise to the top of the charts!

Want some cool loops?
Step 1: Stop by Farmer John's page
Step 2: Add him to your friend list.
Step 3: Send him a message that says "I wanna rock!" That's all there is to it!
There are eight groups of Loops: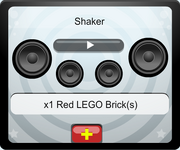 See Also
Ad blocker interference detected!
Wikia is a free-to-use site that makes money from advertising. We have a modified experience for viewers using ad blockers

Wikia is not accessible if you've made further modifications. Remove the custom ad blocker rule(s) and the page will load as expected.